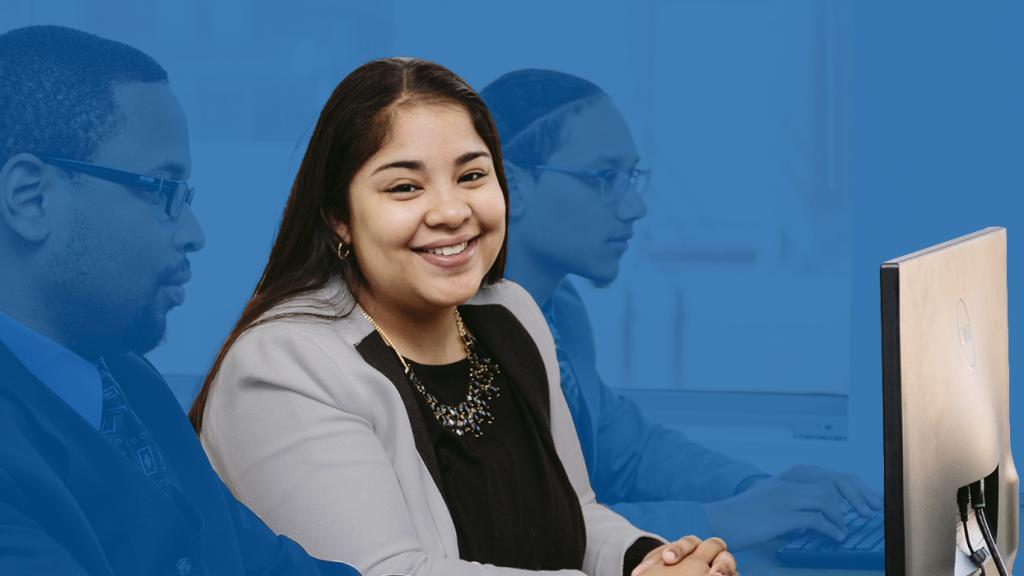 Financial Operations
Accounting & Corporate Finance

Year Up's Accounting & Corporate Finance specialty trains toward skills in financial management, data management, analysis, and reporting, financial and managerial accounting, and accounting applications. Training covers financial management topics such as financial statements, accounting, financial analysis, financial forecasting, working capital, asset management, and financial ethics; using Excel, PowerPoint and Tableau/Power BI to load, prepare, analyze and report data; accounting to build financial statements for business organizations as well as accounting to aid in managerial decision making; and using Excel and QuickBooks to manage accounting records and prepare journals, ledgers, A/P, A/R and payroll.
Industry Training Focus Areas
Process Analysis
Financial Operations Fundamentals
Accounting Applications
Data Management, Analysis & Reporting
Year Up's Essential Skills Training
Industry Skills Development at a Glance: You'll Learn How To...
Prepare trial balances and financial statements
Analyze trial balances to identify discrepancies and utilize accounting records to find, correct, and confirm the cause of discrepancies
Interpret common accounting reports (A/P, A/R, past due, payroll, etc.) and identify their purpose and uses
Utilize basic features of computer applications (e.g. Excel and Quickbooks) to develop and maintain accounting records and reports
Review financial statements and financial data; identifying trends and outliers to pull out key insights
Document and analyze accounting and corporate finance processes
Essential Skills Development at a Glance: You'll Learn How To...
Communicate professionally in-person and over digital platforms by utilizing strategies, tools, and feedback to adapt to the environment
Participate in meetings by contributing to conversation and supporting with planning and follow up actions across a team
Navigate challenging situations by regulating reactions to display grit and maintaining a positive composure
Utilize common management, editing, and conference tools such as Microsoft Outlook, PowerPoint, and Zoom
Gather and analyze data to provide support to and generate ideas for a business
Pursue opportunities for professional growth and maintain a well-formed resume
Training at Work: Typical Job Tasks
Assist accountants with routine tasks to evaluate performance and financial health of a business
Verify and prepare bills and invoices
Prepare reports and analyze data for a corporate finance department, articulating and implementing solutions
Prepare investment and cash reports
Path to a Career: Training-Enabled Role Pathways
Accounting Associate
Accounts Payable Support
Purchasing Specialist
Financial Reporting Analyst
Treasury Analyst
Locations Currently Offering This Training Specialty
Hands-on Experience at Top Companies Like: