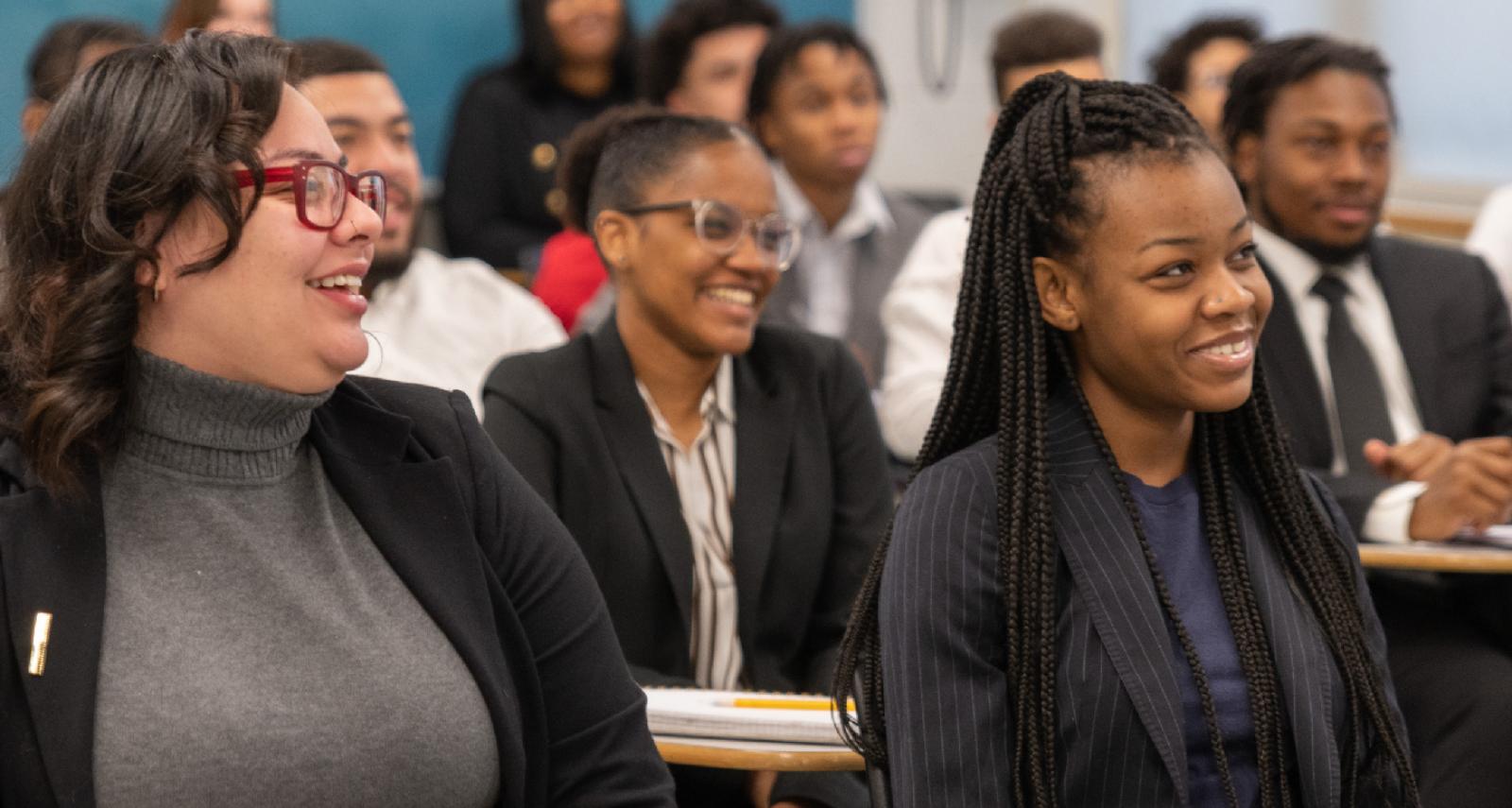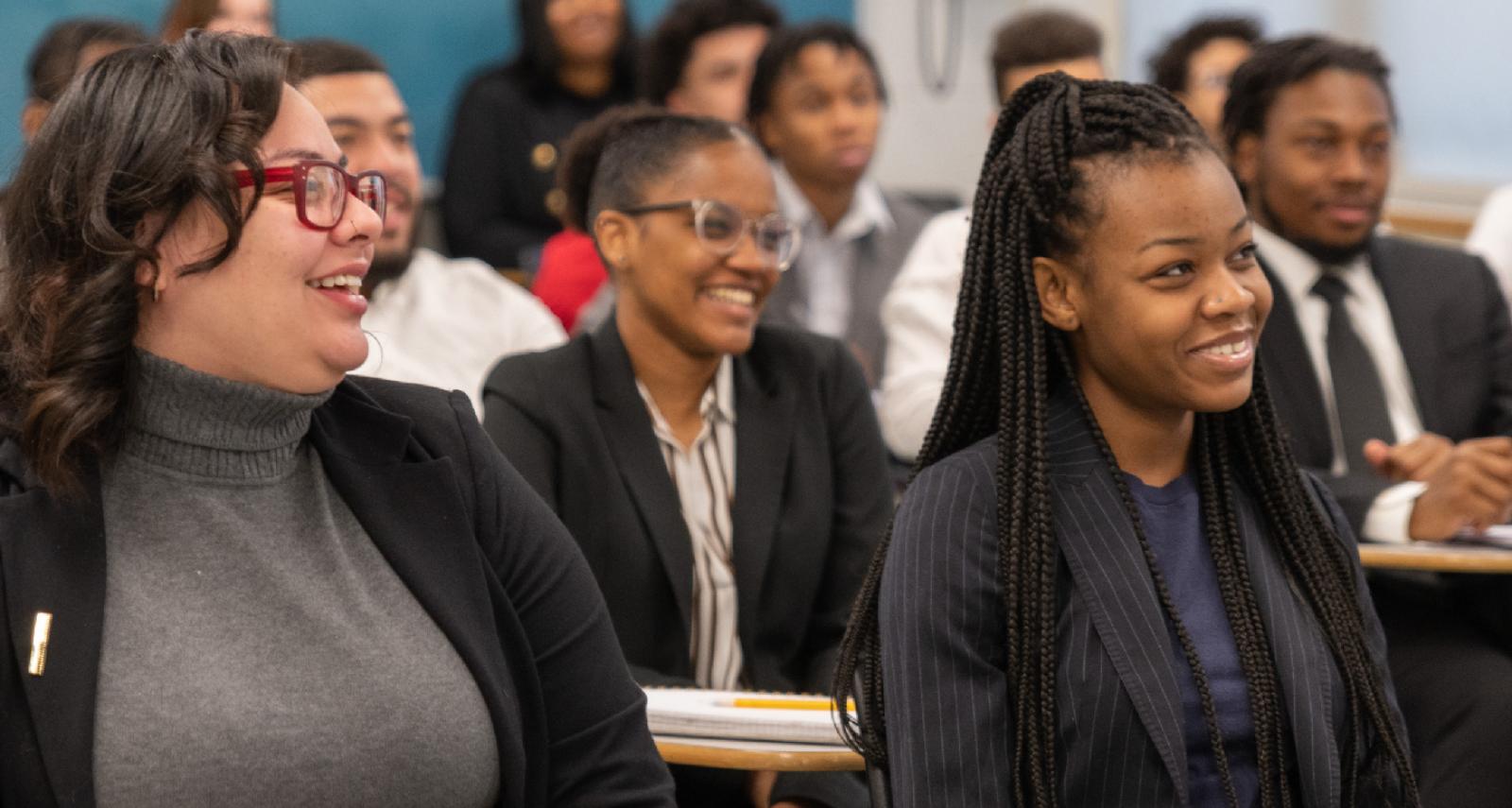 FAQs
You have questions.
We have answers.
Opportunities like this don't come along often, so you might have questions. Search keywords like "internship" or "stipend" or "hiring" to learn more.
Student FAQs
Application process
How do I apply to Year Up?
The first step is to attend an info session, so that you can learn more about the program. You can sign up online and attend either in-person or online. Next, you'll complete the application (which we'll send you), attend an interview, and complete an academic assessment. If you're applying to one of our college-based locations, you will need to apply to the college and complete the FAFSA. Don't worry. If that sounds intimidating, our admissions team can help. They will provide more details as you progress.
Benefits
Am I guaranteed a full-time job after I graduate?
Although Year Up does not guarantee a full-time job after graduation, we do have a dedicated team that is committed to helping you get a job after graduation. With that support, 90% of our graduates are employed or pursuing postsecondary education within 4-months of graduation.
Am I guaranteed an internship?
100% of qualified students are placed in internships. To be qualified, you must be in good standing and demonstrate career readiness. We set very clear expectations and coach you every step of the way to ensure you always know where you stand.
How much money can I make after Year Up?
Salaries vary, but a recent study found that our participants earn 53% more, on average, than their peers who don't join Year Up. Our recruitment teams can share the average hourly wage in your region. Of course, salary isn't a guarantee. It's up to you to secure a job upon graduation.
What kind of support does Year Up offer after my year in the program?
When you graduate Year Up, you join a network of 18,000+ Alumni. The Alumni Relations Team, YUPRO, and National Alumni Board are committed to developing resources and networking opportunities for alumni across the country.  We provide resources such as access to a no-cost Associate's Degree program, career coaching, and access to an alumni assistance program available 24/7. Learn more on the alumni website.
College Credit
I have an international college degree. Can I still apply to Year Up?
Yes, in most cases you are still eligible for Year Up if you have a college degree from an international university. However, all students must have U.S. work authorization and be within commuting distance of a Year Up location. Because international college degrees often don't provide the same advantage as U.S. college degrees, we will evaluate your application on a case-by-case basis.
Are all of the courses offered by Year Up eligible for college credit?
Year Up offers either college credits or college credit recommendations, depending on the campus. If you enroll at a Year Up location housed at a college, you will receive college credit directly through the college. If you enroll at a stand-alone Year Up campus, you'll receive credit recommendations recognized at over 2000 higher education institutions nationwide.
I want to continue my college education. Can I go to school while attending Year Up?
At many of our locations, you will be dually enrolled with our college partner, receiving up to 31 college credits from your college and Year Up courses. At Year Up locations that are not based at a college partner, you will be eligible for college credit recommendations that are recognized at over 2000 higher education institutions nationwide. While you can take additional classes, we don't recommend it. Past students have found it difficult to balance.
Cost/Stipend
Is Year Up free?
Year Up is offered at no cost to you. As a non-profit we're not in this to make money. We're in it for you. In fact we offer you an educational stipend to help offset your basic expenses. In locations where we partner with colleges, you will still be responsible for college tuition and fees, but we work with you to receive grants and funding that can cover college costs.
I have bills to pay. Will I be able to work while attending Year Up? Will the stipend be enough for me to live on?
Yes, many students work part time jobs during evenings or weekends while attending Year Up. It can be challenging to balance, but it's possible. While the stipend won't replace a full-time job, it will help offset some of your basic expenses. If you are worried about your income, our student services staff has experience discussing part time jobs for students and can help you develop a plan that will enable your success at Year Up and ensure you can cover your expenses.
Will I get paid during the internship phase?
Yes, you will receive regular stipend payments during the year-long program, and the stipend increases during your internship. The stipend won't replace a full-time job, but it can help offset some of your basic expenses.
Logistics
Does Year Up help with housing?
Year Up does not provide housing, but our Student Services team can provide resources, connect you to housing opportunities, and help you find a solution, on a case-by-case basis. We work with other community organizations when needed, to ensure this isn't a barrier to your success.
Does Year Up have a dress code?
Yes, Year Up upholds a business attire dress code, which we define in detail during orientation. If you don't have professional clothing, don't worry. We can recommend sources for affordable professional clothing and we have clothing closets with high quality, donated professional clothing available at no cost to you.
What is Year Up's attendance policy?
Year Up sets high expectations for attendance. We expect you to arrive on time, each day, with the exception of pre-determined holidays. We know things come up, so we offer a small number of personal days for those times. Late arrivals or additional absence beyond those allowed will have an impact on your performance in program, which we discuss, in detail, during orientation, so that you know exactly what to expect.
Tracks
What courses does Year Up offer?
Our training offerings, career tracks, and internships vary by locations, and may change each cycle, depending on the needs of our corporate partners. Visit the location page of the location nearest you, to see what options are available for the current recruitment cycle.
Do I get to choose my specialty?
You'll share your top specialty choices when you apply. Everyone learns the same basic skills to start. Then, based on your interest, the observations of your instructors and advisors, and available internship opportunities, we'll place you into a specialty that will be the best fit.Visit the location page of the location nearest you, to see what options are available for the current recruitment cycle.
See More Student FAQs
Corporate Partner FAQs
See More Corporate Partner FAQs
Donor and Volunteer FAQs
See More Donor and Volunteer FAQs