Student benefits
Free Year Up tuition
Our job training program is 100% tuition free. Plus, you can earn an educational stipend throughout the program.
Eligible for college credit
Make progress towards a college degree at our community college locations.
Access to an alumni network
Join a nationwide alumni network, committed to help you advance your career.
Student Services support
Our Student Services team can connect you with housing, food, transportation and/or childcare resources.
Our skills based training paths
Year Up offers a variety of skills based job training pathways that match the expertise corporate partners are seeking for their talent pool. From IT and software development to business operations and banking & customer success, Year Up provides a broad range of job training pathways. Year Up is 100% tuition free, and you'll receive the support, tools, and resources you'll need to succeed in your desired career path regardless of your background, income, or zip code.
Year Up is a 3-step job training program that takes 1 year or less to complete. The first phase of the program takes place in a classroom setting where you'll learn the ins and outs of your specific training pathway, and develop professional and personal skills alongside a community that empowers you to reach your full potential. In the second phase of the program, you'll be placed into a corporate internship where you'll apply your newly acquired skills. Finally, upon graduation from Year Up, support staff will guide you through every part of your job search to ensure success. Take a look at
our current job training offerings
and
view what is offered in your area
to see if Year Up is the right next step for you!
Need More Information?
We understand you may not be ready to apply at this moment. In order to help you make your decision, enter your email below to receive more information from our staff and alumni about the Year Up journey.
Student Services support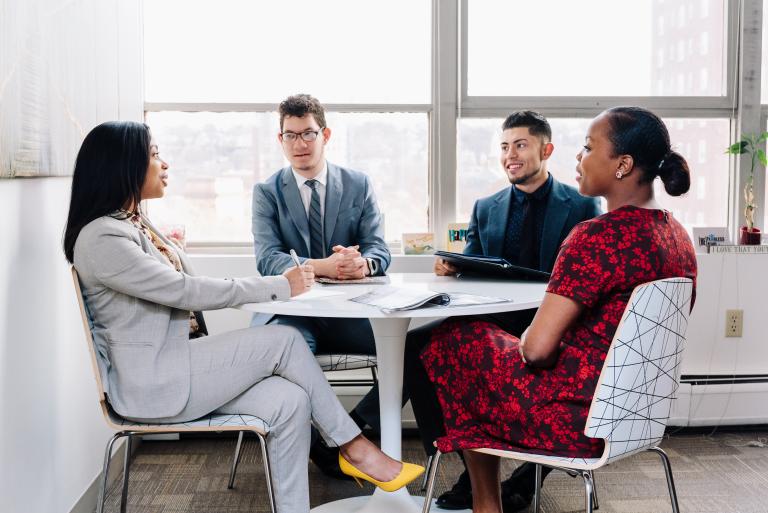 Our student services team works with other community organizations to provide you support in finding housing, food, transportation, and/or childcare resources. You'll get to know our Student Services staff before Orientation Day to ensure you are set up for success.
See an example of a student's day in the life.
Still have questions? Find out more in our FAQs.